Current Odds on World Cup Winners
by
faza657
| Posted on Monday, June 16th, 2014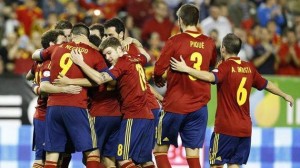 Now we all know that the four favourites for being this World Cup's winners are Brazil, Argentina, Germany and Spain. Yet how do they rate in betting standards? And what about the rest of the hopeful nations?
As our current odds stand, Brazil lead the race with the odds of them ending up as victors set at 4.00, whilst Argentina's odds of the same outcome currently set at 5.00.
Germany and Spain come in joint third with odds set at 7.25, yet the interesting numbers are yet to come.
Up until recently, Belgium were merely considered as dangerous underdogs, yet recent betting statistics might suggest otherwise. The odds of them winning are currently set at 21.00, which although shows quite the gap from the top four, still shows that this is a squad which could bruise any nation, favourite or not.
France come up next with odds set at 23.00, followed closely by Italy with odds set at 25.00. England and Portugal follow the rest in joint place with odds of ending up as the tournament winners set at 27.00.
It is however interesting to know that, in the list of potential European winners, Portugal in fact have better odds of being crowned victors rather than the English.
Visit the sportsbook page for further information, or just to take part in the fun during the 2014 World Cup.