Portugal
Group                                                   : G with Germany, Ghana and USA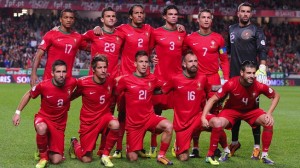 Current Fifa Ranking                : 5th with 1172 points
World Cup Appearances         : 1966, 1986, 2002, 2006 and 2010
Best Achievement                      : Third Place in 1966 and Fourth Place in 2006
Head Coach                                     : Paulo Bento
Captain                                              : Cristiano Ronaldo
Having managed to scrape through qualification and emerging victorious in their deciding play-off against Ibrahimovic's Sweden, the Seleccao's results and performances in this tournament will depend on their illustrious and record breaking captain Cristiano Ronaldo. Even though Portugal are still regarded as one of the toughest nations in Europe, one could feel that their golden generation days of Figo, Rui Costa and co are long gone and the only truly exceptional player left is the Real Madrid captain himself.
They have also been pitted against one of the tournament favourites in Germany. Die Mannschaft are a much more complete and compact side than the Portuguese, with a possible outcome of this group being a scrap for second place between Portugal and Ghana, with the USA lurking in the shadows. In ex Sporting Lisbon coach Paulo Bento, the Seleccao have a tactically sound manager, even though their qualification route was nothing but rocky.
Though it would be a grave mistake to assume that Portugal are a one man team, captain and leader Ronaldo has shouldered much of the responsibility in making sure his country is still one of the teams to beat. Other top-brand names in the squad include the captain's club team-mates Pepe and Fabio Coentrao in defence. Some high class players are also found in midfield in the form of AS Monaco's Joao Moutinho and Manchester United's Nani. The Red Devil has never really been a consistent player who also tends to dive rather than dribble, yet when in good form, the player's potential is undisputed. Ronaldo leads the attack although he is not a conventional striker and more of a winger, masking the fact that Portugal sorely lack a top class striker.
As stated, it would be a mistake to under-estimate Bento's squad. When the manager took over the national team, they were languishing in bottom place during qualification, yet the harmony and team spirit brought in by him has now allowed them to reach the finals. They have potential to qualify from the group stages, however further progression will mostly depend on opposition and their star player's form.
Latest Betting Odds on Portugal
                                                                                              1                        X                     2
16th June – Germany – Portugal  – 17:00                     1.85                           3.40                  4.30
22nd June – USA – Portugal – 23:00                               5.00                            3.60                  1.70
26th June – Portugal – Ghana – 17:00                          1.88                           3.45                  4.05